Route 66 MenuNov. 11 – 13
Posted on

November 11, 2016

in events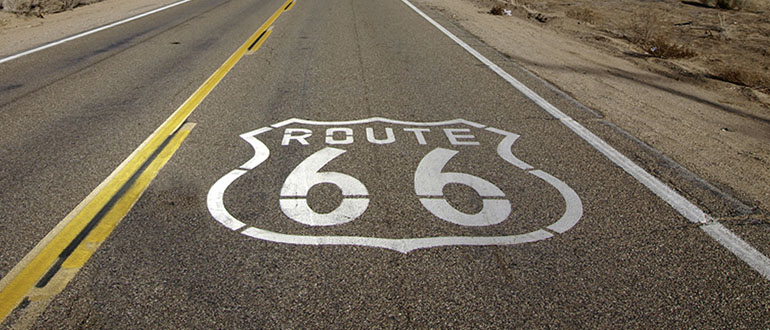 Route 66 Inspired Menu
After weeks and months of political turmoil, Toscano's would like to return to what some of us might remember as the good ol' days of our youth and to what others may see as an opportunity to experience the heydays of their parents or grandparents. Today marks the 90th anniversary of the creation of Route 66.  This 2448-mile road, the "Main Street of America," stretched from Chicago, Illinois to Santa Monica, California. It passed through Missouri, Kansas, Oklahoma, Texas, New Mexico, and Arizona and served as a major route for those heading west – especially during the days of the Dust Bowl and the Great Depression. It was immortalized in the 1960s TV show Route 66 and in the 2006 Disney film "Cars," in which Lightning McQueen's life changes as a result of a stop in the fictional Radiator Springs.
Built in the days before chain restaurants and motels, Route 66 offered the food and flavors of each region through which it passed. Steak, chili, pulled pork, fish, and homemade pies were some of the treats that you could look forward to as you drove farther and farther along the road. Here at Toscano's this weekend we are going to offer some of the treats that you might have found on your Route 66 journey.
Road Trip Menu
This is a sampler menu for you and your navigator for $66
First Course
Joe's Award-Winning Chili
Joe's chili could go head to head with Ike's Famous Chili in Tulsa on Old Route 66. They've been serving up the best chili on The Mother Road since 1908.
and
Toscano Taco
Spinach, crab roasted peppers and pepper jack on a flat taco. Inspired by one of the newest food destinations at the very end of Route 66 – The Albright on the Santa Monica Pier in California. 
Entrées
Steak Tortellacci with Pesto Cream Sauce
Steak is a big deal on Route 66. We could not help but serve up our favorite steak tortellacci as a nod to the Big Texan Steak Ranch on Route 66 in Amarillo, TX. They're famous for their 72os steak! It's free if you eat the whole thing. If you want to try and eat 72 ounces of tortellaci, call ahead!
and
Barbecued Pulled Chicken with French Fries
Straying just off The Mother Road, this dish is inspired by the Missouri's mom-and-pop barbecue joint Missouri Hick Barbecue.
Dessert
All-American Apple Pie with Gelato
An Italian spin on the American classic apple pie. Back in the day you would have been able to find authentic gelato on Route 66 at Bono's in Fontana, CA. Bono's opened in 1936 and served the growing Italian immigrant population in Fontana throughout the 1940's.
and
Classic Mexican Sopapillas
Just as delicious as those served up at Joe and Aggies in Holbrook AZ. Joe and Aggie's has been a Route 66 staple since 1943 and was a research stop for the creators of the Disney movie "Cars."
Or you can choose one for the road from our dessert tray!